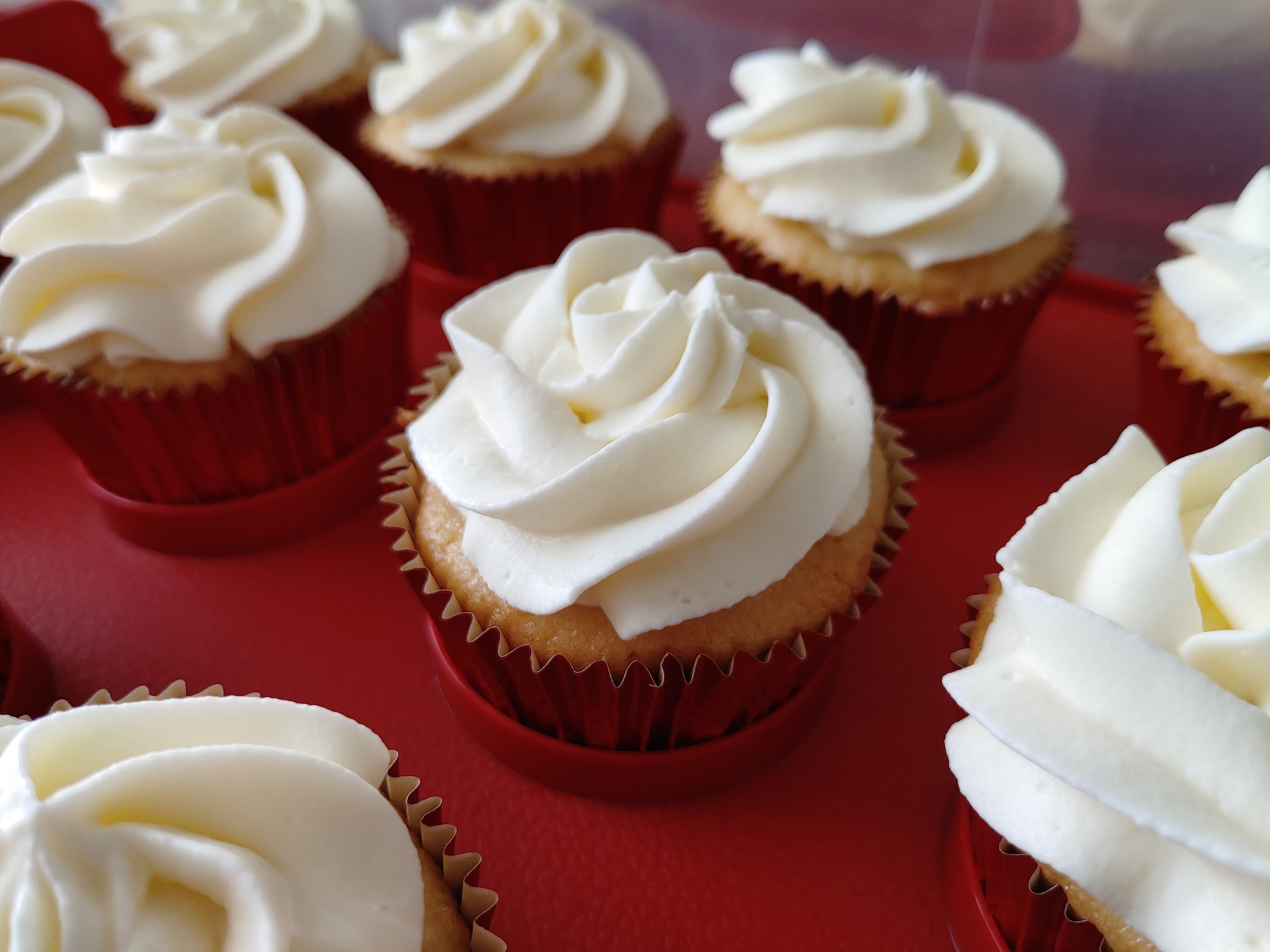 07 Feb

Vanilla Cupcakes with Whipped Cream Icing

This easy gluten-free vanilla cupcake is fluffy and moist, but also not too heavy or sweet, you can easily fancy it up with some filling or by topping it with fruit. They're perfect for any occasion, they can also be made into a two layered 9" cake, adjust the baking time to be 45-55 min when making a large cake.

Prep Time10 minsCook Time25 minsTotal Time35 mins

Cupcake Ingredients

½

cup

safflower or grapeseed oil

Icing Ingredients

1

Preheat the oven to 350 degrees

2

Line 2 cupcake tins with foil lined paper cupcake liners, I like to use the foil lined ones because the colours stay nice and the cupcake releases easily from the liner, without having to grease them (I usually put 6 liners in ramekins as well as this recipe makes up to 30 depending on how full you fill the cups)

3

In the bowl of an electric mixer, mix together sugar, flour, baking powder, and salt.

4

Add milk, oil, eggs and vanilla. Beat on medium speed for 30 seconds to 1 minute.

5

slowly add the boiling water and beat until just combined, don't overmix you want the batter to be runny

6

Fill liners 2/3 full with batter. I use a cookie scoop it can be kind of messy

7

Bake cupcakes for approximately 23-25 minutes, until they are golden and a cake tester or toothpick comes out clean.

8

Let them cool completely and refrigerate before frosting. Place the bowl of your electric mixer and the whisk attachment in the fridge to cool

9

In the cold bowl of your electric mixer whip the whipping cream until it thickens

10

Add the icing sugar and meringue powder and whip until you have stiff peaks, adding these ingredients stabilizes the whipping cream so that it doesn't melt on the cupcakes, but you still need to work quickly because you want to get them iced and in the fridge as soon as possible.

11

I use a 1M tip on an icing bag, and hold it at a 90 degree angle to cake and working from the outside in, ice your cake, decorate with what other toppings you like. you can also spread it on the cupcakes with a knife or spatula. Refrigerate until ready to serve
Ingredients
Cupcake Ingredients
½
cup
safflower or grapeseed oil
Icing Ingredients
Directions
1
Preheat the oven to 350 degrees
2
Line 2 cupcake tins with foil lined paper cupcake liners, I like to use the foil lined ones because the colours stay nice and the cupcake releases easily from the liner, without having to grease them (I usually put 6 liners in ramekins as well as this recipe makes up to 30 depending on how full you fill the cups)
3
In the bowl of an electric mixer, mix together sugar, flour, baking powder, and salt.
4
Add milk, oil, eggs and vanilla. Beat on medium speed for 30 seconds to 1 minute.
5
slowly add the boiling water and beat until just combined, don't overmix you want the batter to be runny
6
Fill liners 2/3 full with batter. I use a cookie scoop it can be kind of messy
7
Bake cupcakes for approximately 23-25 minutes, until they are golden and a cake tester or toothpick comes out clean.
8
Let them cool completely and refrigerate before frosting. Place the bowl of your electric mixer and the whisk attachment in the fridge to cool
9
In the cold bowl of your electric mixer whip the whipping cream until it thickens
10
Add the icing sugar and meringue powder and whip until you have stiff peaks, adding these ingredients stabilizes the whipping cream so that it doesn't melt on the cupcakes, but you still need to work quickly because you want to get them iced and in the fridge as soon as possible.
11
I use a 1M tip on an icing bag, and hold it at a 90 degree angle to cake and working from the outside in, ice your cake, decorate with what other toppings you like. you can also spread it on the cupcakes with a knife or spatula. Refrigerate until ready to serve