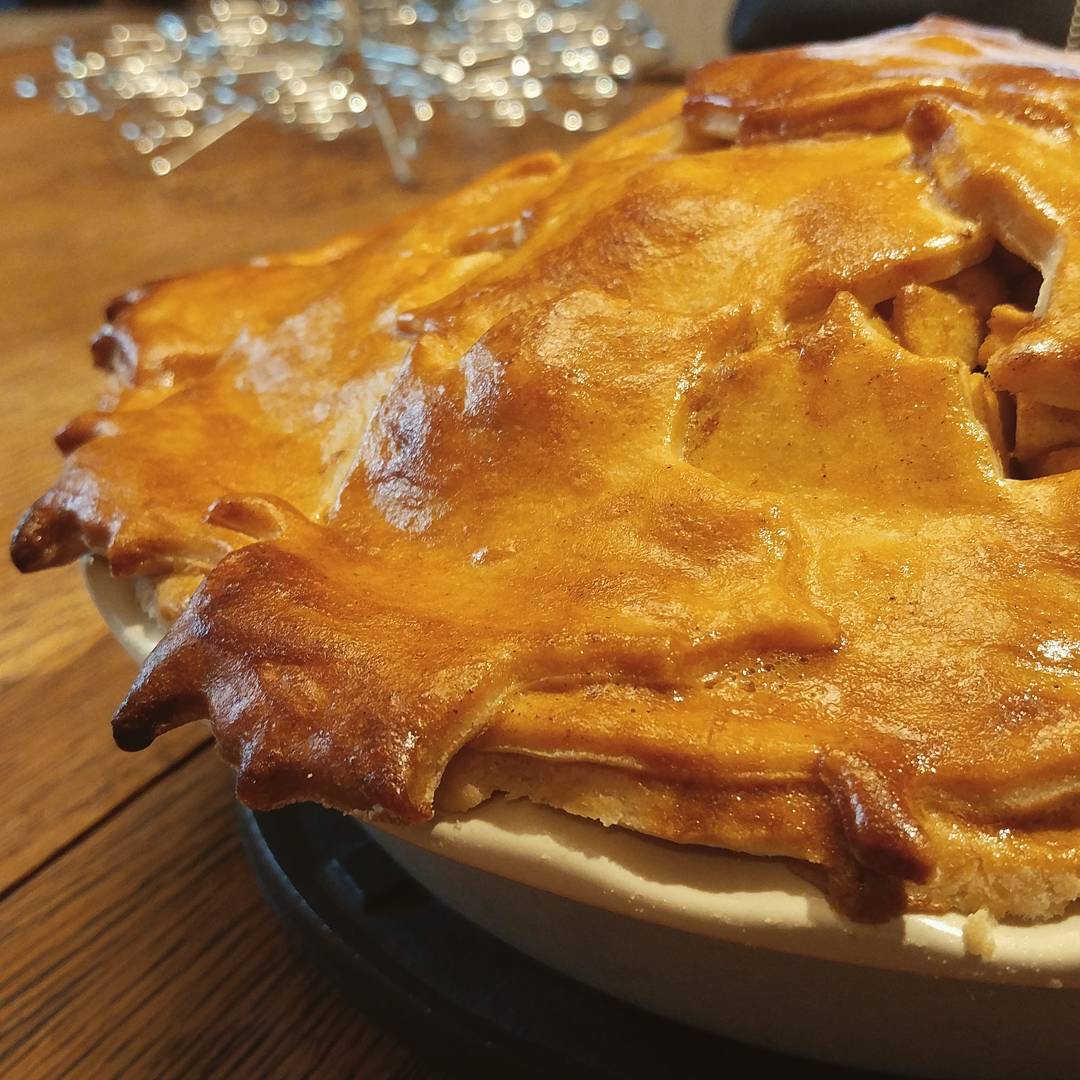 19 Sep

Old Fashioned Apple Pie

This pie recipe tastes deliciously like autumn because of its apple cinnamon flavour, it's easier to make than most, the crust is less finicky than your average crust and the when the frozen butter melts while baking you end up with an amazingly flaky crust.

This pie recipe tastes deliciously like autumn because of its apple cinnamon flavour, it's easier to make than most, the crust is less finicky than your average crust and the when the frozen butter melts while baking you end up with an amazingly flaky crust.

Prep Time15 minsCook Time1 hrTotal Time1 hr 15 mins

Filling

1/2 cup packed brown sugar

Pie Crust

2 tablespoons granulated sugar

2 sticks (1 cup) frozen butter

12 tablespoons cold water

sweet rice flour for rolling

Egg Wash

1

Preheat your oven to 375°F

Filling

2

In a large bowl whisk together the filling dry ingredients

3

Peel the apples and slice them into thin wedges adding them to the bowl of dry ingredients, coating them well.

Pie Crust & Assembly

4

In a medium bowl whisk together the crust dry ingredients

5

Using a box grater, quickly grate the butter into the bowl and toss it with your fingers to coat

6

Add the ice cold water and knead until it comes together and separate into two balls (one slightly larger than the other

7

On a lightly sweet rice floured piece of wax paper roll out the smaller ball to fit your 9" glass pie plate. (the wax paper will make it easier to flip the crust into the plate.

8

Add the filling to your crust lined pan

9

For the top crust you can either roll out a circle to fit the top pinching the edges together poking holes in the top crust for ventilation, or be lazy like me and use a fall themed cookie cutter (I used a maple leaf) and overlap the shapes leaving small gaps for the pie to vent

Egg Wash

10

Before placing the pie in the oven whisk together your egg wash ingredients and brush all exposed crust (this will help the pie get glossy and golden while it bakes. I usually brush it a second time part way through the baking process)

11

Bake the pie for one hour or until crust is golden.

To Serve

12

Serve with a slice of strong cheddar cheese on top or some vanilla ice cream
Ingredients
Filling
1/2 cup packed brown sugar
Pie Crust
2 tablespoons granulated sugar
2 sticks (1 cup) frozen butter
12 tablespoons cold water
sweet rice flour for rolling
Egg Wash
Directions
1
Preheat your oven to 375°F
Filling
2
In a large bowl whisk together the filling dry ingredients
3
Peel the apples and slice them into thin wedges adding them to the bowl of dry ingredients, coating them well.
Pie Crust & Assembly
4
In a medium bowl whisk together the crust dry ingredients
5
Using a box grater, quickly grate the butter into the bowl and toss it with your fingers to coat
6
Add the ice cold water and knead until it comes together and separate into two balls (one slightly larger than the other
7
On a lightly sweet rice floured piece of wax paper roll out the smaller ball to fit your 9" glass pie plate. (the wax paper will make it easier to flip the crust into the plate.
8
Add the filling to your crust lined pan
9
For the top crust you can either roll out a circle to fit the top pinching the edges together poking holes in the top crust for ventilation, or be lazy like me and use a fall themed cookie cutter (I used a maple leaf) and overlap the shapes leaving small gaps for the pie to vent
Egg Wash
10
Before placing the pie in the oven whisk together your egg wash ingredients and brush all exposed crust (this will help the pie get glossy and golden while it bakes. I usually brush it a second time part way through the baking process)
11
Bake the pie for one hour or until crust is golden.
To Serve
12
Serve with a slice of strong cheddar cheese on top or some vanilla ice cream