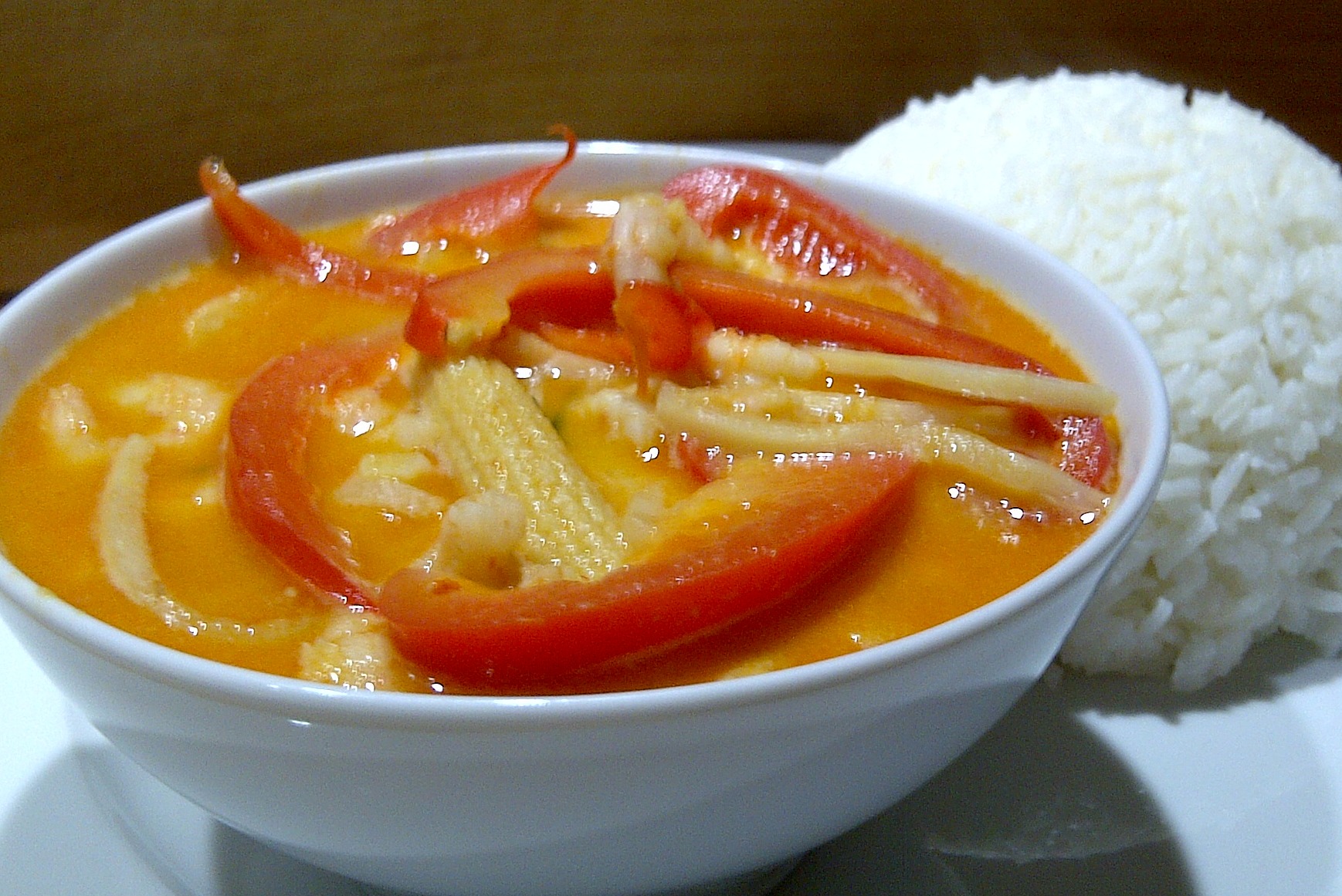 01 Sep

Thai Curry

This recipe is super convenient and easy, the ingredients can be kept on hand for a fast dinner fix*, it can be made as spicy as you want it to be, with any protein you like, seafood to meat.

Prep Time5 minsCook Time25 minsTotal Time30 mins

Red Curry Paste, Approx 3 tbsp

Sweet Chili Sauce, Approx 1 tbsp

3-5 Keffir Lime Leaves, centre stem removed and the leaves sliced thinly

1 Lemon Grass shoot, ends removed, layers separated and cut in half

1 Fresh Red Chili Pepper, seeds and membrane removed and pepper sliced thinly

1 small can bamboo shoots, drained

1 small can sliced water chestnuts, drained

1 small can baby corn, drained

Chicken, Prawns, Scallops or Cooked Shrimp (I like to use cooked shrimp it is fast, easy and tasty)**

1

In a large thick bottomed sauce pour coconut milk. Add red curry paste into the pan and whisk until it is smooth and orange-y. Add the fish sauce and sweet chili sauce, also to taste.

2

Add Lime leaves, chili pepper and lemon grass, taste it now to ensure you have a good taste, you may need to add fish sauce or sweet chili, this is why I always do the seasoning before adding the meat so that I can taste it to make sure it is right,

3

Turn on heat to medium low, we never want the curry to boil we want it to be at a simmer. Add the water chestnuts, bamboo shoots and corn. If cooking with chicken add it now, if cooking with prawns or scallops add them in 10 min if cooking with cooked shrimp add them in 15 min.

4

Simmer on low until the meat is cooked, then add the red peppers simmer for 10 min.

5

Remove the lemon grass, and spoon the curry onto a bed of thai basmati rice.

* I store the lime leaves, chili's and lemongrass in the freezer
**I don't have amounts for the 'meat' portion of the dinner as when I use chicken I usually use one small breast per person cut into small cubes, cooked shrimp a pound or so, it depends how much you want)
Ingredients
Red Curry Paste, Approx 3 tbsp
Sweet Chili Sauce, Approx 1 tbsp
3-5 Keffir Lime Leaves, centre stem removed and the leaves sliced thinly
1 Lemon Grass shoot, ends removed, layers separated and cut in half
1 Fresh Red Chili Pepper, seeds and membrane removed and pepper sliced thinly
1 small can bamboo shoots, drained
1 small can sliced water chestnuts, drained
1 small can baby corn, drained
Chicken, Prawns, Scallops or Cooked Shrimp (I like to use cooked shrimp it is fast, easy and tasty)**
Directions
1
In a large thick bottomed sauce pour coconut milk. Add red curry paste into the pan and whisk until it is smooth and orange-y. Add the fish sauce and sweet chili sauce, also to taste.
2
Add Lime leaves, chili pepper and lemon grass, taste it now to ensure you have a good taste, you may need to add fish sauce or sweet chili, this is why I always do the seasoning before adding the meat so that I can taste it to make sure it is right,
3
Turn on heat to medium low, we never want the curry to boil we want it to be at a simmer. Add the water chestnuts, bamboo shoots and corn. If cooking with chicken add it now, if cooking with prawns or scallops add them in 10 min if cooking with cooked shrimp add them in 15 min.
4
Simmer on low until the meat is cooked, then add the red peppers simmer for 10 min.
5
Remove the lemon grass, and spoon the curry onto a bed of thai basmati rice.