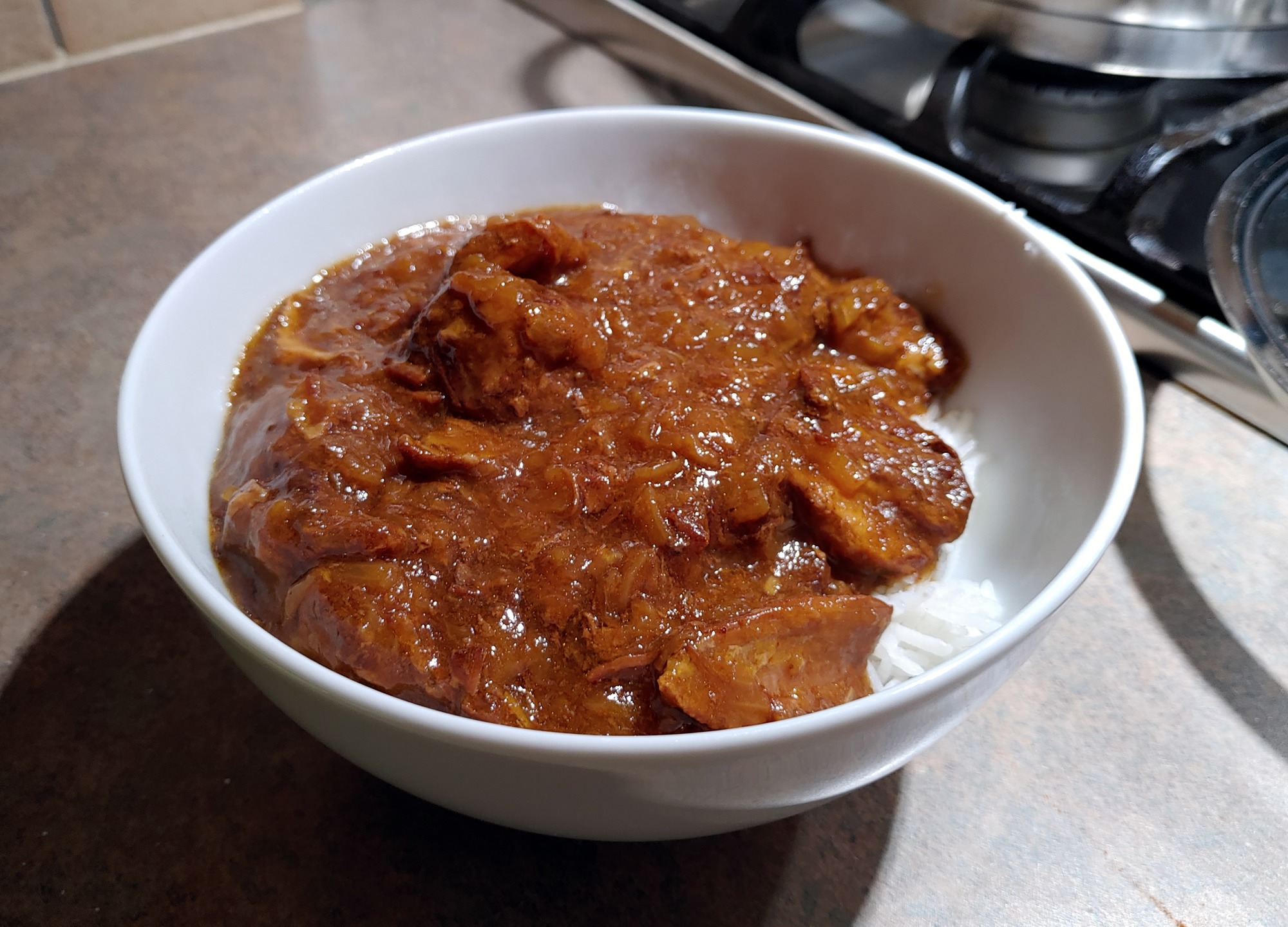 04 Apr

Nagypapa's Hungarian Goulash

This is my grandfather's recipe he was from a small town called Nagykáta, I'm told that it isn't a standard gulyás recipe it must be one very regional or familial, it was our favourite treat as kids and he would make it for our birthdays and other special occasions, it's spicy and delicious, one of the best comfort foods.

Prep Time30 minsCook Time8 hrsTotal Time23 hrs

2 Tbsp Hot Hungarian Paprika (I use Szeged)

1 Tall Glass of Dry Red Wine, by this I mean full pint glass, (seriously, I use Szekszardi Kekfrankos or if a Hungarian wine is unavailable, Chilean wine Cono sur Merlot works well)

3 Big spoonfulls of corn starch

1

Peel and dice the onions, and in a large roasting pan, roast them in oil until golden brown.

2

Dice meat into one inch cubes. Add the meat to the roasted onions; add paprika and salt as well. Mix well and cover and let simmer on low heat. (I cover it in tin foil and slow roast it in the oven) mix occasionally.

3

After 2 hours of slow cooking add the cornstarch to the red wine, stir until smooth, then add to boiling goulash, mix well.

4

Take the habanero peppers and make a baggie out of cheese cloth (or use a tea bag), put the baggie in the goulash and let simmer for another hour. Remove from heat and store overnight (do not refrigerate until it is cooled). Depending on your tolerance for spice you might want to remove the habaneros at this time, you can always add them back before you warm it up in the morning.

5

In the morning bring the goulash to a boil then turn down to a simmer, taste it, if it is spicy enough, take out the baggie of habaneros if you want more spice, leave them in, keep slow cooking until dinner.

6

Serve over rice or potatoes
Ingredients
2 Tbsp Hot Hungarian Paprika (I use Szeged)
1 Tall Glass of Dry Red Wine, by this I mean full pint glass, (seriously, I use Szekszardi Kekfrankos or if a Hungarian wine is unavailable, Chilean wine Cono sur Merlot works well)
3 Big spoonfulls of corn starch
Directions
1
Peel and dice the onions, and in a large roasting pan, roast them in oil until golden brown.
2
Dice meat into one inch cubes. Add the meat to the roasted onions; add paprika and salt as well. Mix well and cover and let simmer on low heat. (I cover it in tin foil and slow roast it in the oven) mix occasionally.
3
After 2 hours of slow cooking add the cornstarch to the red wine, stir until smooth, then add to boiling goulash, mix well.
4
Take the habanero peppers and make a baggie out of cheese cloth (or use a tea bag), put the baggie in the goulash and let simmer for another hour. Remove from heat and store overnight (do not refrigerate until it is cooled). Depending on your tolerance for spice you might want to remove the habaneros at this time, you can always add them back before you warm it up in the morning.
5
In the morning bring the goulash to a boil then turn down to a simmer, taste it, if it is spicy enough, take out the baggie of habaneros if you want more spice, leave them in, keep slow cooking until dinner.
6
Serve over rice or potatoes